We've set high bars for birthdays on this trip. In January, I celebrated at my boarding school in Kodaikanal. In February, Kayan turned two on a beach in Goa. In April, we feasted on Sandeep's baklava cake in Istanbul. Finally, today was Ava's turn.
As we put Ava to bed tonight she said, "This was such a special day, you cannot even believe." So what did we do to ring in Ava's fourth year? We started off playing at a local playground, where she told Kayan exactly how to use the sea-saw.
The kids made sand birthday cakes on the beach.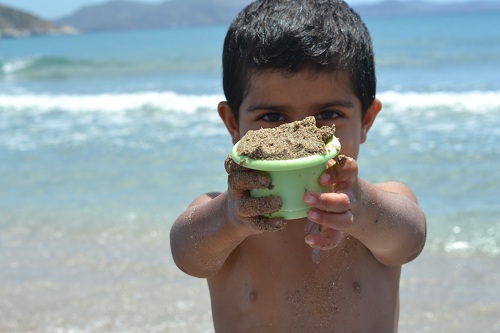 We stuffed ourselves on calamari, grilled octopus, and barbounia.
The best past of today is that we sang happy birthday several times. The world is so connected now and, with media such as Skype, Ava got to celebrate with friends and family from around the world.
Those that know our family knows we aren't into gifts. Turns out that's just fine for a four year old. Ava's gifts today were shells, ocean air, sunshine, good food and lots of love. That's a great way to celebrate any year of life.