Over the past 10 months our family has been a very tight unit. Because we built bonds with new friends and met old ones and family along the way, we never felt homesick. However, on arriving in New York and being greeted by family we realize that, while home has been a portable concept for the four of us, we still had a lot of home to come back to here. Sitting down to a meal made by my mother, a cake lovingly selected by our aunt and having the kids swept up by a horde of eager arms were feelings that we realized we missed.
On November 1, 2011 we left New York City, determined to hit ten countries in ten months.
We succeeded in our mission and arrived back yesterday, somewhat changed. There are obvious differences. Our bags are dirtier and we no longer need to worry about pacifiers.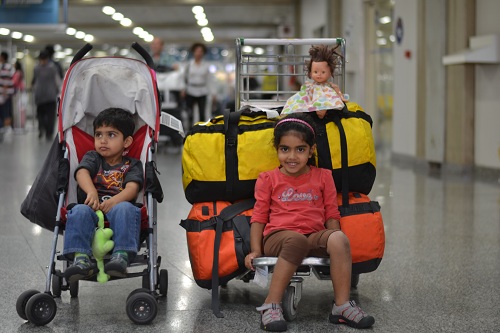 A globetrotting friend said that sometimes a journey needs to end in order for the reflections to begin. We hope that this is true. We know that this journey has changed each of us and adjusted the lens from which we see each other and our world. Over the next few weeks we'll share reflections of our journey and explore the joys and challenges of settling back down again. After all, this trip was a minor diversion and getting back on track is part of the course.