Our quiet neighborhood of Santa Teresa seems a world away from Rio's bustling 6 million people. The hilly area harbors nineteenth century mansions hidden among its winding and steep cobblestone streets. It retains a very local feel and it is rare to see a tourist or hear English. This has become more so since the area's main lifeline, a yellow tram called the Bonde, stopped running following a fatal accident in 2011. The Bonde used to carry tourists into and locals about this otherwise secluded enclave of Rio. While the Bonde itself has stopped operation, it is memorialized across the neighborhood in the form of street art.
Street art is very much a part of the Santa Teresa neighborhood Rio. We usually think of graffiti as crude block lettering set against large industrial walls, in sketchy areas such as by train tracks or parking lots. It is rare to see high quality street art blanketing a neighborhood of nineteenth century mansions. As odd as this may seem on the surface, the street art works beautifully in Santa Teresa.
It turns out that the reason street art works in this historic area is that most of it is a collaboration between the artists and the community, rather than acts of vandalism. As of 2009, graffiti/street art is legal in Rio with the property owner's consent. We don't know much about graffiti culture but there is a difference between "tagging" or vandalism and street art. Street art, particularly where the artist and property owner collaborate, has come to serve the communities in Rio in many ways. In the 60s and 70s, artists started moving in to neglected mansions and homes, leading to a creative and bohemian culture. Street art became an economic way of improving property facades. Commissioned street art also deters tagging. The result is that the Santa Teresa neighborhood bursts with color on every street.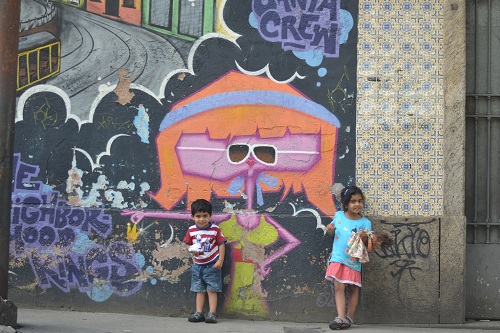 We always told the kids that paper is for coloring, not walls. However, street art, when done thoughtfully, is changing our minds. These vibrant drawings in Santa Teresa breathe life into quiet streets. In the few days we have been here, we have learnt to tell direction by using street art as markers. Street art also serves as great conversation. If Ava or Kayan were ever good enough to be commissioned to create street art, we wouldn't stand in their way. However, until then we still say no to tagging walls – at home or on the streets.